Amidst a major Boro crop loss, Bangladesh for the first time in five years is going to the international market to buy rice with the aim of reining in the soaring prices of the staple.
Hard on the heels of 10 lakh tonnes of flash flood-induced projected Boro loss in north-eastern Bangladesh and further crop loss due to widespread fungi attack (rice blast), the government floated first of a series of international import tenders on Tuesday amounting to 50,000 tonnes.
Food Ministry sources said the government would allow up to six lakh tonnes of rice import this year with the Directorate General of Food getting ready to float the second tender in the series (for 50,000 tonnes) this week.
After a sustained growth in farm output for the last several years, the government took the import decision when the prices of the staple showed an upward trend with allegations that a section of millers and middlemen were deliberately supplying the market less rice to put pressure on the government to lift the 25 percent import duty.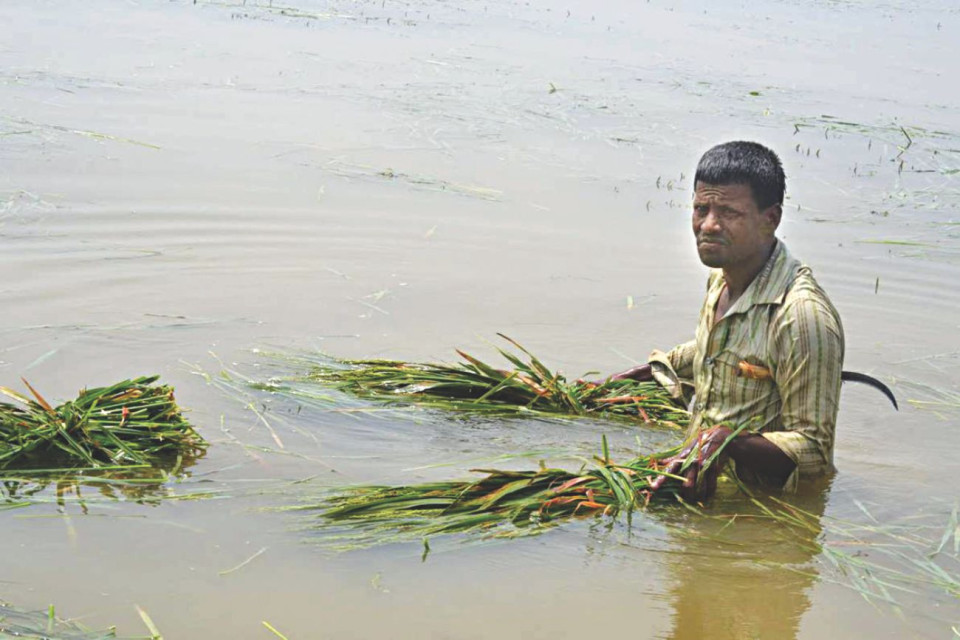 According to the Trading Corporation of Bangladesh (TCB), over the last two weeks, the upper band of coarse rice price rose to Tk 45 a kg from Tk 42.
Earlier, a food ministry monitoring report also showed that the retail prices of rice rose by 3.7 percent in Dhaka.
Since the unusually early floods struck the vast haor areas of Sunamganj, Habiganj, Sylhet, Moulvibazar, and Netrakona districts in late March, rice traders had a series of meetings with the government's food officials asking for the waiver of import duty.
The duty was imposed two years ago to stop private importers' flooding the country's market with cheaper rice from India when Bangladesh had already attained self-sustenance in rice and even exported some to Sri Lanka.
Talking to The Daily Star on Wednesday, Agriculture Minister Matia Chowdhury said, "We've decided to import some rice — initially one lakh tonnes may be — and if needed, more later.
"We lost crops this year because of climate change-induced early rainfall. There were incessant rainfall for six and half hours one day and for five hours another day. We experienced too much rainfall too early — early by three weeks. Humid conditions and high temperatures all helped otherwise dormant fungi to become active causing crop loss."
Matia said, "It's not that we'll not get grains from blast-affected rice fields. May be we'll reap 40 maunds of rice instead of 70 maunds per acre from the affected fields."
She, however, offered no estimate of how much of a 19.1 million projected Boro would be lost due to the blast.
The import decision also came when rice stock in public granaries dropped to a six-year low, less than three lakh tonnes.
Director General of the food directorate Badrul Hasan told the media that the state agency also planned to import rice through government-to-government deals from producers such as Thailand, Vietnam and India as importing via tenders was a lengthy process.
The country's prominent plant pathologist, M Bahadur Meah, who teaches at Bangladesh Agricultural University, feared that the fungi attacks have already caused a huge crop loss in southern, central and lately in northern districts.
Sher-e-Bangla Agricultural University's plant pathology professor Abu Noman Faruq Ahmmed had seen firsthand the damage caused by rice blast in several districts in recent weeks.
Both Bahadur and Noman told The Daily Star that early rainfall, fluctuations in day and night time temperatures and humid conditions helped blast-causing fungi to become active. They found BRRI-28, one of the country's best-bred Boro rice variety, vulnerable to blast.
Immediate past director general of Bangladesh Rice Research Institute (BRRI) Jiban Krishna Biswas said, "Resurgence of rice blast in the form of neck blast is dominant this year. There was rain during the flowering stage of BRRI-28, BRRI-50, BRRI-61 and BRRI-63. None of these varieties are tolerant to the blast. It may be mentioned that BRRI-28 was recorded as moderately tolerant during the time of its release. But the rice blast has the ability to adapt. A blast-resistant variety may not be able to fight back infection from adapted fungi."
After the Department of Agricultural Extension (DAE) report that rice blasts have been identified in as many as 19 districts this year, the government held a blast consultation workshop on Thursday involving national and international stakeholders.
Addressing the workshop, Matia Chowdhury thanked the media for spreading awareness about the fungi this year.
She said the Awami League assumed power in 1996 amidst a 4 million tonne food deficit but turned the country into rice self-sufficient in 1999. Despite inheriting a food-deficit country again in 2009, "we succeeded in achieving self sufficiency".
The minister asked all relevant to try and develop varieties resistant to blast.
BRRI Plant Pathology Division chief MA Latif said work was underway to develop blast-resistant rice varieties. He said crop loss due to blast was under control as BRRI had warned a month ago about possible blast attack.