Even with the sun blazing on top, come summer and backyards become our favourite places to hang out in. From large family gatherings, some casual cookouts and sometimes to take in the beautiful summer nights, lots happen in those little gardens of ours. So let us all get dusting of our old garden furniture, maybe do some remodelling, or introduce some new pieces to our beloved backyards to get them ready for the busy summer parties ahead.
What is nature without wood? Similarly introducing wooden furniture into your gardens is not a bad idea like some might expect, however some extra care needs to be taken.
To keep wooden furniture, it is best to place them on a patio or tiled corners, and under some sort of shade, all to avoid rain which might ruin the furniture.
The best sorts of wooden sofas and tables that go well with gardens are unpolished ones, textured and raw looking, in other words — your worn out old pair of sofa set!
It may look out of place inside the house, but outside amongst all the greens is where it belongs.
Classic washed out wooden furniture looks best by itself in its natural state and creates a serene garden atmosphere. With some little adjustments and accessories these old furniture can be your new garden relaxation space.
Take a swing
Of course gardens are the place for a swing to be but that does not mean it cannot be re-introduced in a better way. There are many new designs in the market, new structures and new colours.
Hammocks are a beautiful piece to add to a summer garden that will literally make you feel like you are in a camp. The best thing about hammocks is their playfulness. With an array of bright colours and textured material it creates the perfect piece for a nice little afternoon nap.
Hanging basket-like swings in the shape of eggs are also seen a lot nowadays which are also great additions to a backyard. When lined with blankets these hanging baskets become so comfortable you could sleep in them.
Outdoor equal rattan
You can never go wrong with rattan and outdoors. With its natural colour and patterned knits it transforms any old garden into a beautiful oasis in the city. The bamboo like texture provides an organic setting and blends seamlessly with the nature surrounding it. Decorate your rattan or wicker furniture with blues and whites, which will create a breath-taking and fresh airy atmosphere.
Challenge the odds
If you are someone who likes to go against the grain, then let go of all your everyday garden furniture and start experimenting.
Bring in unconventional furniture like your lounge chair or coffee table into your garden. These look splendid on rooftop luxurious patios along with some beautiful lighting. Plain cement seating and tables are another option for the person who loves it raw and rough.
Victorian benches are usually seen in parks, but our gardens are just a smaller version of the same thing, are they not? It is all about mixing and matching according to one's own tastes and preferences. Add some metal stools to a wooden table, or wooden chairs to a concrete one, after all we are going against the grain.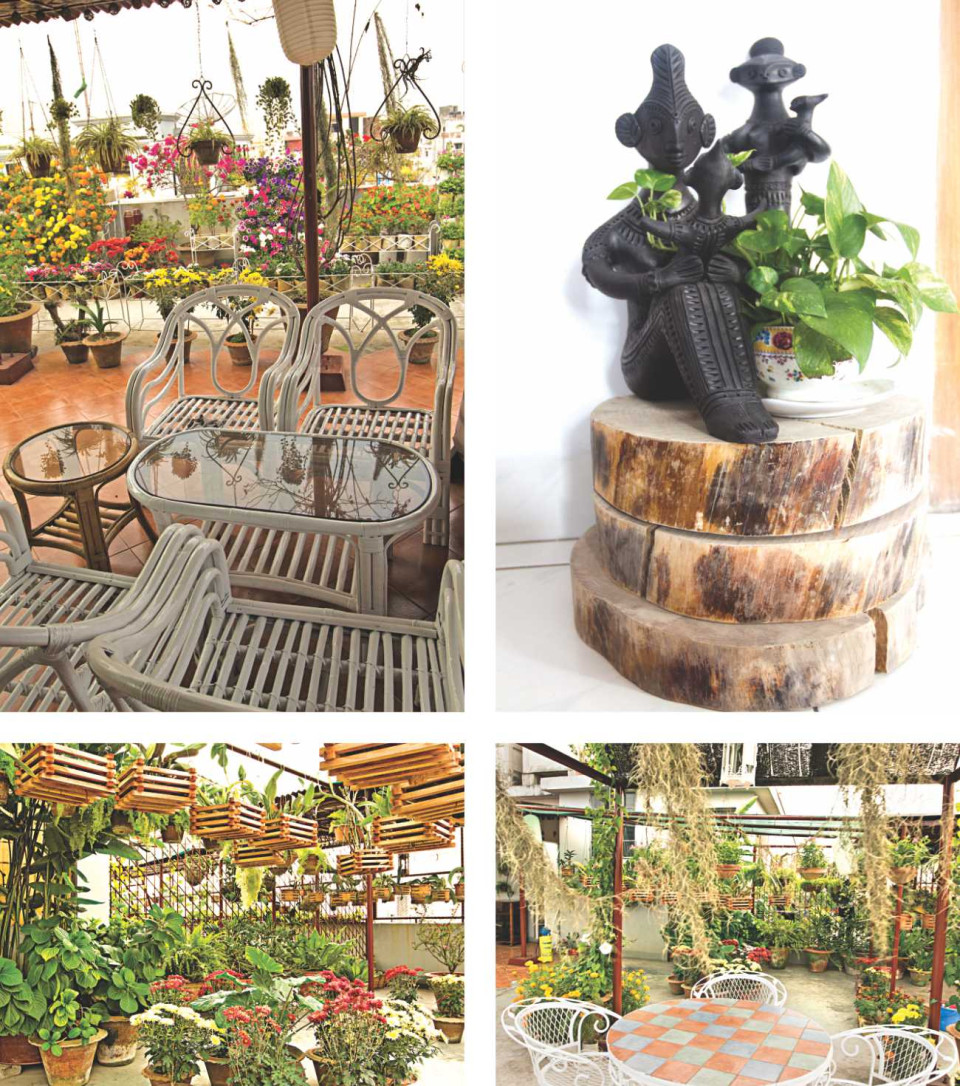 Metal and mesh
Metal is widely used as garden furniture for it is easy to maintain and looks sharp. There are a lot of twists you can put to your metal furniture. A lot of times metal is paired with wood, which is a great combination, and sometimes painted in shinny golds and blacks to bring in some character.
In summer, one can go ahead and paint all their metal or wire mesh garden chairs in bright pastels to create some playfulness.
If you love heavy duty furniture, you can ask for an industrial finish on their metal tables and chairs with dark wood. One place metal and mesh furniture fit in perfectly are rocky gardens. The cold grey stones perfectly complement the cold metals.
Pretty and petite
In the city most of us are not blessed with the largest of backyeards, and have to make do with the small spaces we get.  However, just because it is small does not mean it cannot be good looking.
When buying furniture for small spaces look for lean and structured frames with comfortable seating. The lighter the frames the more spacious the ambience they create.
Folding chairs and tables are by far the best option for small gardens, ones you can pull out for events and fold right back afterwards. Because it is hard to plant a lot in small spaces, go for plant stands of many different heights and shuffle them up. It is all about adding little elements and letting them speak for themsleves.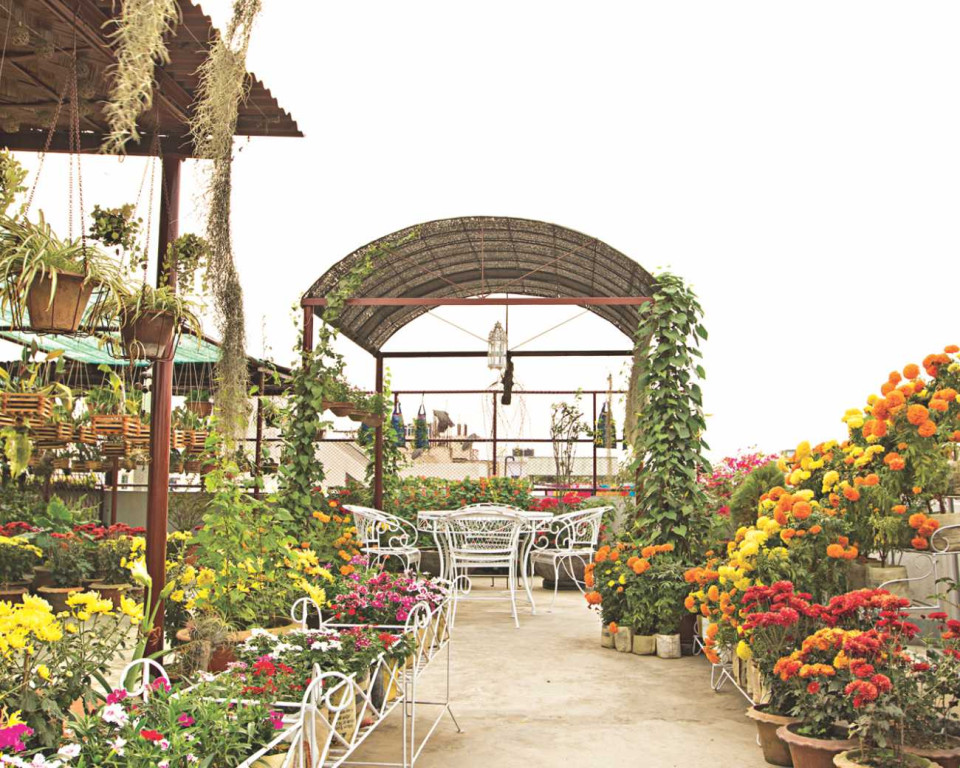 Shelve arrangements
Seating arrangements are not the only arrangements a garden needs. A lot of times supplies are hidden under sheds, but with modern edgy garden shelves you can showcase your garden supplies in style. Try hanging creepers along the shelves and maybe some flowering pots too. Add metallic rods in copper or blacks with white planks. Bring out old bookshelves from inside the home and decorate them outside amongst the greenery.
For the night owls who love to spend all their nights in their gardens admiring the stars, the perfect setting is provided by black furniture. It looks serene and mixes right in with the dark nights. Lean towards dark colours like deep browns or dark navy blues, or even go crazy with all black furniture to create some depth and character.
For us city inhabitants a tranquil and isolated little corner is what dreams are made of. Be it a dainty little terrace or a full grown garden, choosing the perfect furniture for the proper space is crucial to its outlooks because sometimes the tiniest change can bring about a noticeable difference, and yet others can turn those into an utter disaster.
To prevent that from happening one should focus on balancing out the greens and the architectural elements to transform any old garden into a truly serene space.