We live in a time where everything is intended to be luxe, where we love to display our creativity in every nook and corner of our homes; from the small stools in living rooms to closets bigger and fancier than bedrooms. Amongst all this décor, we often tend to miss out on one particular corner of the house, our bathrooms, maybe because we always shut those close, or simply do not understand the importance of it.
However the bathroom has become more than simply a toilet and showerhead, for some it is a personal spa, some love to relax in their tubs and maybe even read a book, and some to simply pamper themselves and unwind from their busy days.
It is no surprise the bathroom plays a big part in our lives so it only makes sense if it were given the special treatment as well.
Plush rugs
Keeping a rug in the bathroom might seem like a bad idea to some, but if the shower section is cut off or you simply prefer to use the tub, then keeping a rug dry is not hard at all.
In fact adding a rug, especially plush ones, add a lot of texture to the plain bathroom walls and floor. Red rugs make any space feel luxurious, and go great with white bathrooms.
Opt for more lightly coloured rugs such as cream, beige or even lightly patterned ones for bathrooms with more colour.
Floating faucets
What is a bathroom without a faucet? If you are digging in a bit more into bathroom renovation, consider mounting the faucets on the walls instead of having them attached to the sink or tub.
Even the simplest of faucets look amazing when they are in bold colours like gold, bronze or even black, and make the space look more decorated without having to add any elements.
Traditional tiles 
We have seen plenty of modern and edgy tiles in recent bathroom décor, however stepping out of the norm and shifting to traditional printed tiles can give the space some light and airy feel. Now, with traditional tiles, one can play it any way they want.
Statement patterned floors with solid walls, putting up patterns behind the vanity to create a backdrop or going half way up with playful coloured tiles and keeping the rest simple are just a few of the many ways patterned tile can be used to liven up bathrooms.
---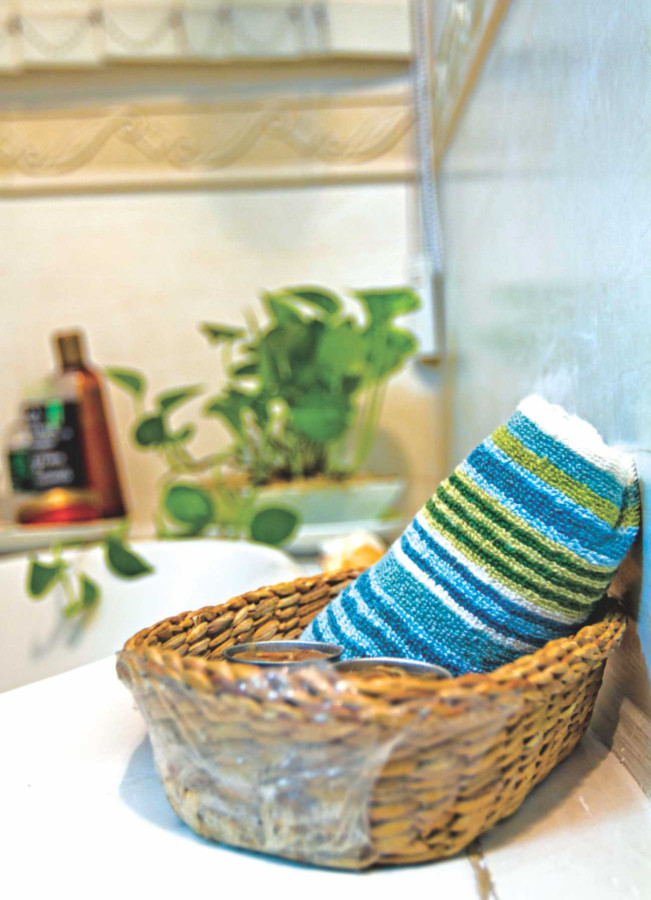 ---
Offbeat furniture
If there is one furniture item that goes with bathrooms, it has to be a chair, from fancy cushion like chairs, to studded leather ones or maybe even a pouf. These versatile pieces can be used as temporary tables for your books, towels or candles, and of course as chairs when you need. Not to mention they look amazingly lavish for such a small addition and decorates the whole space without being too much.
If the bathroom to be decorated has more space, a dresser is the furniture to go for. For it can double as your vanity, store so very much, and look amazing of course. For slightly smaller bathrooms, a bar cart is just the perfect alternate to the dresser, where you can store all your precious shampoos and spa ingredients. Black out
"Small bathrooms should avoid black" is a common misconception, especially when now we have so much to accessorise small bathrooms with. From completely blacked out bathrooms to black counters, this dark colour looks amazing in both marbles and tiles, and creates a wonderful moody haven. Accessorise your black bathroom with large mirrors, good lighting and small plants to bring in hints of life.
Freestanding tubs
One more item that has turned up from back in time. Boxed bathtubs are a common scenario in everyday bathrooms, however freestanding tubs have made a comeback. These tubs make the space feel lighter and more airy, and even the smallest of bathrooms can enjoy one. Without all that extra tub material these freestanding tubs really stand out, and feel even more special when you add on pairs of clawfoots in gold or silver to really give it that Cinderella feel.
Vessel sinks
Sinks are like haircuts, changing it up a bit can transform the whole bathroom look. Nowadays the options are endless for when you walk into a sink store it is possible to get lost amongst all the beautiful blues and whites. If there is one thing you want to renovate, then this is it.
However, we all know that changing the entire thing comes with a high price, so simply swapping out the boring white top with vessel sinks can bring in a lot of character to the space. Play with wild Moroccan colours or bold metallic ones to make your space feel more homely and welcoming.
Marble all the way
Marbles are a timeless piece for decorating any room or space, so it comes as no surprise that a full-blown marble bathroom will not be anything less than mesmerising. Black, white or nautical blues, however you decide to sport it. From the tub to the floors, walls and sinks, the whole space together shows off the glamorous marble colours and the fine plain texture gives off a bold yet minimal look. All together with small bits and pieces of accessories this will be one bathroom worth staring at.
Personal tastes differ, and with your items of choice, make sure to tie it all together. For a neutral earthy vibe opt for wooden elements and a sand or fawn background, maybe some rattan baskets and woven rugs to add to the earthiness.
For a more classic yet glamorous look fuse unexpected colours and textures with bold jewel tones and some metallic fixtures to add to the glam.
Plants are always nice no matter what style you are opting for, some candles for special days and lots of boxes to hide away any clutter.
Last of all, it is the fundamentals of the bathroom which make the difference, from the colour coordination to the fixtures and lightings. Connecting the dots can make any bathroom come together to both look and feel pristine. Accessories also come hand in hand, since we are speaking of bathrooms, the lesser the richer and fuller your bathroom with look.
You will be amazed at how much of a difference the small things like the tiles or chairs can bring to transform any old bathroom into a sanctuary. So whether you are looking for a full-scale renovation, or simply change things up a bit, these modifications might just help you to achieve the dreamy luxe bathroom you have always wanted.